Our Green Events Staff
Back to Earth stands out from other catering companies in the San Francisco Bay Area. We are artists, food enthusiasts, and event specialists who take pride in executing creative, elegant, green events.
Our innovative chefs blend their creativity with the freshest abundance of local, seasonal, organic foods. Our talented kitchen staff and professional servers come to us from the finest restaurants and catering companies in the country. We strive to provide the highest level of catering services in the greater San Francisco Bay Area. Please review our full-time staff bios below:

Eric Fenster: Co-Owner/President
Eric is deeply passionate about food and its powerful ability to bring people together for transformative experiences. Through Eric's direction, Back to Earth has become the premier green events caterer in the San Francisco Bay Area. Each year, over 25,000 people enjoy their elegant catering services and sustainable cuisine.
Eric's adventurous and entrepreneurial spirit was sparked by his experience mountain guiding and his field research of exotic species in the high Rockies and Costa Rican jungle. Teaching at the Edible Schoolyard deepened his commitment to the art of taking food from "seed to table". In 2001, his passions merged with Ari Derfel's and together they founded Back to Earth Organic Catering. In autumn 2009 they opened Gather, an organic restaurant, café, and bar at the David Brower Center in downtown Berkeley where they continue offering the highest quality cuisine and catering service to the Bay Area community. Check out the restaurant at www.gatherrestaurant.com.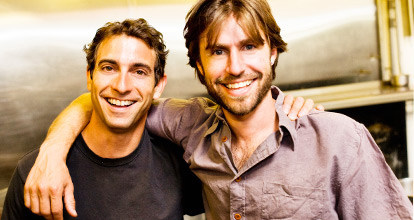 Ari Derfel : Co-Owner/CEO
Ari Derfel is an entrepreneur, activist, organic chef, mountain guide and public speaker. His academic career includes the University of Wisconsin, Harvard, Georgetown, UCLA & Cambridge. In 2001 he and his business partner Eric Fenster founded Back to Earth. They became the first full-service green events caterer in the San Francisco Bay Area.
Eric and Ari also operate Back to Earth Outdoors, a company that provides wilderness leadership opportunities for inner city youth, and backpacking retreats for adults. Currently he is the Project Manager of Terrain, an all organic indoor-outdoor restaurant scheduled to open in Berkeley, California at the David Brower Center in the fall of 2009. Terrain will offer organic meats, sustainable seafood, and gourmet vegetarian cuisine at a restaurant, bar and café.
Through their leadership, Back to Earth has positioned itself at the forefront of both the "green" business movement and the sustainable food movement by supporting local organic farmers, educating people about responsible food choices, utilizing green office and transportation solutions, designing progressive employment programs, and forging the path of conscious business practices.
Molly King: Sales Manager
Molly grew up in a food family –gatherings around the table for dinner every night, food from scratch; big breakfasts on Sunday mornings, and major holiday productions. Molly graduated from the California Culinary Academy with a degree in Hospitality and Restaurant Management. She has extensive experience in restaurant and catering management, as well as high-end wine sales.
Mere Ours: General Manager
Mere has a diverse employment background that has centered on hospitality and service, with a broad Front and Back-of-House restaurant background, and degrees in Culinary Arts and Food Service Management from City College of San Francisco. She started at Back to Earth Organic Catering as a cook and server, and has since moved to a full-time office position, focusing primarily on staffing and human resources. Mere grew up with a consciousness of community, farming, and consideration of our impact on each other and our environments. She started cooking as soon as she was tall enough to reach the kitchen counter and had her first plot in the family's organic garden at age 8.
"Back to Earth has equipped themselves with the best staff around. Their catering services are over the top, and they have extensive experience catering green events. They are our favorite caterer!" —San Francisco Corporate Catering Client